Step Out In Style This Summer With Flexyfoot
Have you heard of Flexyfoot? Do you know they sell PINK crutches?
Flexyfoot are a small but friendly team. Their aim is to provide a stylish and high-quality range of unique walking sticks and crutches designed to improve user comfort, that are packed with additional beneficial features.
Flexyfoot's high-quality range of walking sticks and crutches significantly reduce pain, and the secret of their range lies in the Flexyfoot uniquely designed bellows, which absorbs shock.
Their walking sticks and crutches are loved by an incredibly loyal bunch including Paralympians, amputees, even rock stars (Blaine from the Mystery Jets) and most recently Ant Middleton from SAS Who Dare Wins has been spotted using their Flexyfoot crutches!
Step Out In Style This Summer
Who doesn't love the colour pink? It's the perfect colour for stepping out in style this summer. Bright, bold yet classy. So many people these days have a PINK shirt or t-shirt stashed away in the wardrobe... PINK goes with almost anything, whether it be a pair of shorts, a suit, dressing for a day at the races, a wedding, or a casual day at the beach. Pink is most definitely a colour that is constantly 'in!'
The weather is getting warmer so whilst you're digging out your summer wardrobe, why not go all out this summer? If you're using crutches and you want to 'snazz up' your outfit, why not invest in a pair of beautiful PINK Flexyfoot crutches. Even if you're not a pink fan you will love these!
Maybe we're showing our age here but if you think back to Thunderbirds and Lady Penelope, the Flexyfoot crutches aren't a dissimilar pink to the wonderful outfits Lady Penelope donned.
The Flexyfoot pink crutches are available in closed cuff and either a soft grip or comfort grip option. Of course, if pink isn't your colour, Flexyfoot do have available alternative crutches (in either closed or open cuff) in red, blue, black and orange.
What Our Customers Have Said
The Flexyfoot pink crutches are proving that popular, and just to prove how wonderful and beneficial they are, we received this feedback from one very happy customer:
"My pink Flexyfoot crutches arrived today and are brilliant thank you so much. As a 45-year-old hippy who unfortunately is on crutches for the rest of my life, I decided to actually spend some of my disability benefit on treating myself to a new pair of crutches instead of just trying to pay the mortgage and have 3 kids. Due to my accident, I am unable to work, and we miss my staff nurse wage as hubby is a low paid carer. However, I have been using the flexible feet on my old crutches at my doctor's recommendation and so being able to get crutches with them on was brilliant.


I really do love the colour and I was pleased with how fast they arrived as well.


Many thanks from a very grateful customer and maybe one day I will get them in our colours to match my outfits!!"
Glad our customers love The Pink Flexyfoot Crutches as much as we do!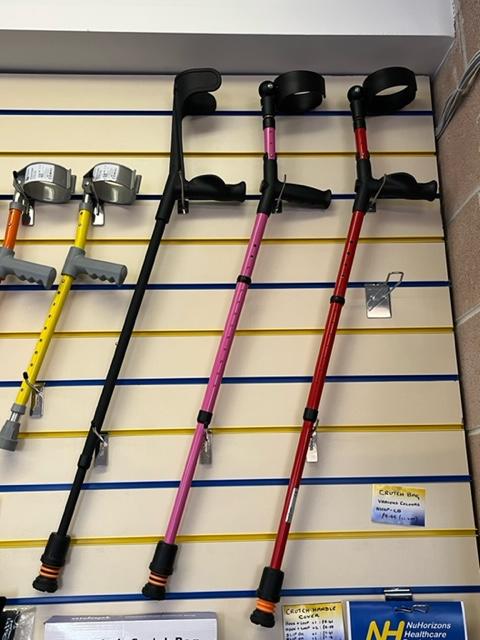 You can visit us in store and view wall of crutches, walking sticks and our fantastic range of Flexyfoot. Feel free to try them out and see which one is most suitable for you or give us a call if you would like more information.
147A Hilderthorpe Road, Bridlington. YO15 3HA
01262 375 050.
enq@baylissmobility.co.uk
Sammie Kershaw
Editor